Glacier Milk Tank
Details
Highest Quality Construction
Tough and Durable
Heavy Gauge Stainless Steel
Smoothest Running System
Precision Engineered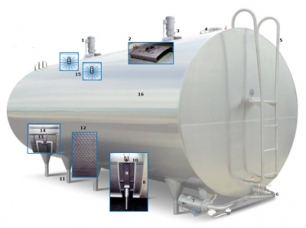 Full size, permanently lubricated gear reduction agitator drives.
Rigid agitator foundation is designed to withstand agitation forces that can be damaging to other coolers.
Threaded agitator couplings for secure operation and ease of removal.
Manhole with attached latches stands up or swings to the side for easy one-hand operation.
Stainless steel exterior ladder
A threaded stainless steel milk valve for added security
Built-in wash system with permanently mounted wash pump for convenient and dependable cleaning
High density, moisture resistant, foam-in-place polyurethane insulation is three times for effective than other types of insulation
Oversized, contoured saddles provide maximum support
High-density polyurethane isolation barrier between inner tank and support saddles prevents metal to metal contact and minimizes heat transfer
Full size, heavy wall, stainless steel legs and leg holders for maximum stability and support
Strongest, most efficient evaporator plate available in a dairy milk cooler
Saddles are permanently attached to the inner barrel to ensure proper fit an alignment
All internal refrigeration lines, fittings, and components are stainless steel
Built-in wash system with permanently attached spray heads for convenient and dependable cleaning
A solid, non-CFC, polyurethane insulation bond between inner and outer tank adds rigidity.